Languages : Français | English
International Conference :
Vladimir Nabokov et la France / Vladimir Nabokov and France
Société Française Vladimir Nabokov / Vladimir Nabokov French Society
Paris, May 30th – June 1st, 2013
CONFERENCE MAIN PAGE    PROGRAM     AROUND THE CONFERENCE      PRACTICAL INFO
PRACTICAL INFORMATION
Map of the Conference venues and events:
– in RED: conference venues;
– in BLUE: cutural and literary events;
– in GREEN: partner bookstores where Nabokov's works and some of the participants' publications can be found. 
IMPORTANT: CLICK ON THE MAP TO VIEW ALL THE CONFERENCE VENUES AND EVENTS

View Colloque Nabokov et la France — 31 mai-1er juin 2013 in a larger map
Extra information:
Map of the Sorbonne University (Conference Venue on May 30, 2013 – Grand Amphithéâtre)
Click on the map to enlarge it.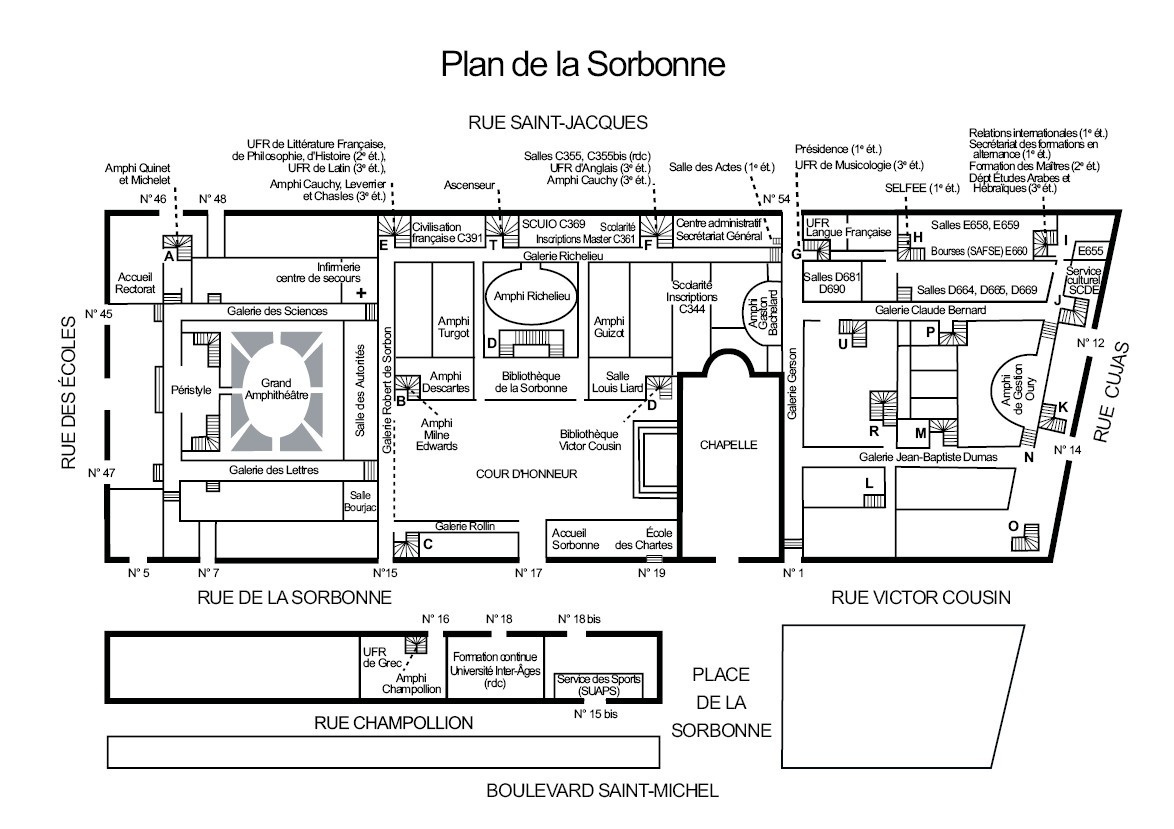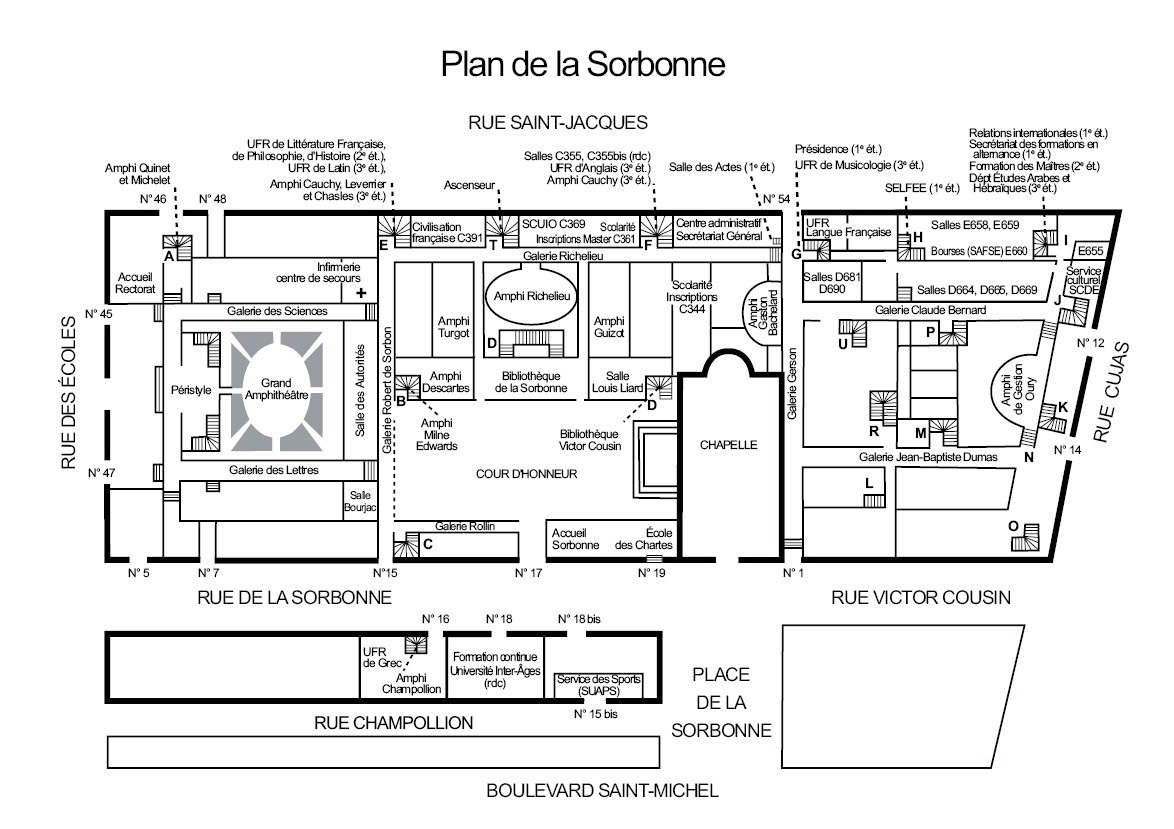 Traveling information
from Charles de Gaulle airport to Paris:
http://www.aeroportsdeparis.fr/ADP/en-GB/Passagers/Access-maps-car-parks/Paris-CDG/Access/public-transport/paris-cdg-rerb.htm
http://parisbytrain.com/files/2008/05/rer.pdf
Paris Subway Map (Métro):
Click on the map to enlarge it.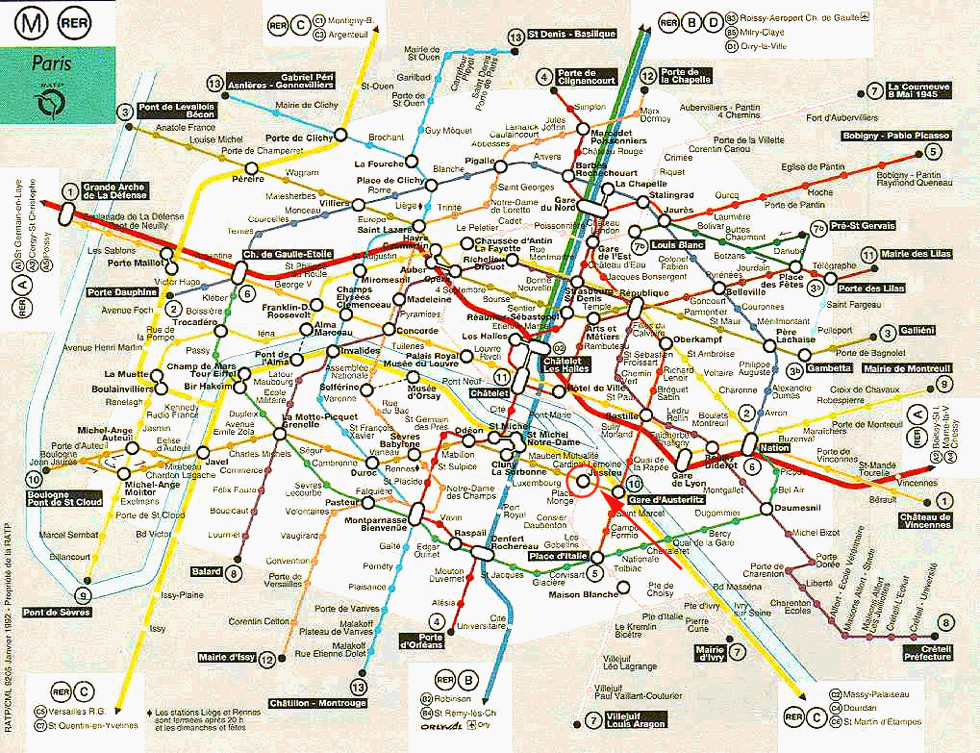 Paris Public Transportation System (RATP) website:
http://www.ratp.fr/en/ratp/c_21879/tourists/

from Luxembourg metro station to the Sorbonne University (conference venue on May 30, 2013):

Hotels in the vicinity of the conference venues (booking ahead is highly recommended)

**** standards

Villa Panthéon 41 rue des Ecoles 5ème Tél. 01-53-10-95-95 Fax 01-53-10-95-96 (Métro Maubert-Mutualité Métro/RER Cluny-La Sorbonne, St Michel) www.leshotelsdeparis.com
2 pers. 280 euros
*** standards
Best Western La Tour Notre Dame Saint Germain des Prés 20 rue du Sommerard 5ème Tél. 01-43-54-47-60 (Métro Maubert-Mutualité Métro/RER Cluny- La Sorbonne, St Michel)
www.bestwestern.fr
1 pers. 190 euros 2 pers. 230 euros
Hôtel California St Germain 32 rue des Ecoles 5ème Tél. 01-46-34-12-90 Fax 01-46-34-75-52 (Métro Maubert-Mutualité Métro/RER Cluny-La Sorbonne, St Michel)
www.california-paris-hotel.com
1 ou 2 pers. 160 euros
Hôtel Claude Bernard 43 rue des Ecoles 5ème Tél. 01-43-26-32-52 Fax 01-43-26-80-56 (Métro Maubert-Mutualité Métro/RER Cluny-La Sorbonne, St Michel)
www.hotelclaudebernardparis.com
1 pers. 175 euros 2 pers. 218 euros
Hôtel du Levant 18 rue de la Harpe 5ème (Métro/RER St Michel)
Tél. 01-46-34-11-00 Fax 01-46-34-25-87 www.hoteldulevant.com
1 pers. 120 euros 2 pers 145 euros
** standards
Hôtel Diana 73 rue Saint Jacques 5ème Tél. 01-43-54-92-55 (Métro Maubert-Mutualité Métro/RER Cluny-La Sorbonne, St Michel) www.hotel-diana-paris.com
1 pers. 90 euros 2 pers. 110 à 180 euros
Hôtel Europe St Séverin 38-40 rue Saint-Séverin 5ème (Métro/RER St Michel)
Tél. 01-46-34-05-70 Fax 01-46-33-84-47 www.hotel-paris-severin.com
1 pers. 90 à 150 euros 2 pers. 100 à 160 euros
Hôtel Le Home Latin 15 et 17 rue du Sommerard 5ème (Métro Maubert-Mutualité Métro/RER Cluny- La Sorbonne, St Michel) Tél. 01-43-26-25-21 Fax 01-43-29-87-04
www.homelatin-paris-hotel.com 1 pers. 85 euros 2 pers. 110 euros
Hôtel St Jacques 35 rue des écoles 5ème (Métro Maubert-Mutualité Métro/RER Cluny-La Sorbonne, St Michel) Tél. 01-44-07-45-45 Fax 01-43-25-65-50
www.paris-hotel-stjacques.com 1 pers. 90 euros 2 pers. 130 euros
Hôtel Vendôme St Germain 8 rue d'Arras 5ème (Métro Cardinal Lemoine, Maubert-Mutualité, Métro/RER St Michel) Tél. 01-43-26-60-37 Fax 01-43-26-71-04
www.hotelvendomesaintgermain.com 2 pers. 100 euros
* standards
Hôtel Esmeralda 4 rue Saint Julien-le-Pauvre 5ème (Métro/RER St Michel)
Tél. 01-43-54-19-20 Fax 01-40-51-00-68
1 pers. 70 euros 2 pers. 100 euros
Hôtel Marignan 13 rue du Sommerard 5ème (Métro/RER Cluny-La Sorbonne, St Michel)
Tél. 01-43-54-63-81 Fax 01-43-25-16-69 www.hotel-marignan.com
1 pers. 75 euros 2 pers. 90 euros
CONFERENCE MAIN PAGE       PROGRAM      AROUND THE CONFERENCE     PRACTICAL INFO
Contact: [email protected]
[email protected]
https://vladimir-nabokov.org/wp-content/uploads/2019/04/Logo-VN-SD-300x82.png
0
0
Johnny
https://vladimir-nabokov.org/wp-content/uploads/2019/04/Logo-VN-SD-300x82.png
Johnny
2013-04-12 21:22:13
2014-04-22 22:26:18
ASSOCIATION: Manifestations – 2013 Conference – Practical Info