Nabokov et le cinéma/Nabokov and Cinema
 Colloque international/International Symposium
26-29 octobre 2021/26th-29th October 2021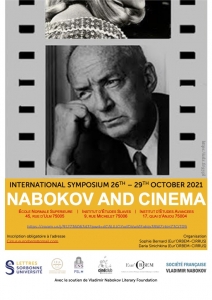 Colloque organisé par Sophie Bernard-Léger, chercheuse associée Eur'Orbem, et Daria Sinichkina, MCF (Sorbonne Université), Eur'Orbem, avec le soutien de la Société française Vladimir Nabokov (Chercheurs enchantés), la Vladimir Nabokov Literary Foundation, et l'IEA de Paris.
Entrée libre sur inscription obligatoire au lien suivant : https://forms.gle/CBWCTFLpd7qHewgX8

Présentation
Malgré la riche matière qu'offre l'œuvre de Vladimir Nabokov pour étudier, depuis la perspective d'une approche intermédiale, aussi bien l'écriture cinématique de l'écrivain que la notion d'adaptation cinématographique d'une œuvre littéraire qui n'a cessé, du vivant de l'auteur, de subir de multiples métamorphoses avant tout linguistiques, aucun colloque d'envergure n'a encore été consacré à la place occupée par le cinéma dans l'œuvre de Nabokov, ou en dialogue avec elle. C'est ce manque que nous souhaitons combler, en proposant quatre axes de réflexion qui rassembleraient spécialistes de cinéma et de littérature : le cinéma dans l'œuvre de Nabokov, allusion intersémiotique ou métaphore d'une culture (ou anti-culture) ; le caractère cinématique de l'écriture nabokovienne, un trait qui rapprocherait l'écrivain de ses contemporains, notamment soviétiques, et qui permettrait d'affiner la définition du « style nabokovien » ; les liens entre l'écrivain et l'industrie du cinéma ; enfin l'esthétique de l'adaptation des œuvres de Nabokov portées à l'écran, en Russie, en Europe et aux États-Unis.
Programme
Tuesday, October 26th, 2021 Ecole Normale Supérieure: 45, rue d'Ulm, 75005 Paris Salle des Actes
20.00 Screening of Stanley Kubrick's Lolita at the Ecole Normale Supérieure's Film club. Film presentation by Marie Bouchet and discussion.
Wednesday, October 27th, 2021 (13.30-17.30) Institut d'Études Slaves: 9, rue Michelet, 75006, Paris
13.30 Sophie Bernard-Léger and Daria Sinichkina (Sorbonne Université – Eur'Orbem) : Opening of the conference
Session chair: Yannicke Chupin (Université de Cergy-Pontoise)
14.00 Keynote speech by Eric Naiman (Berkeley University, California), MeToo Lite: The Bachelor and The Bobby Soxer and Shirley Temple's Anticipatory Plagiarism of Lolita ».
First part : Nabokov, Cinema and American Culture
Session chair: Daria Sinichkina (Sorbonne Université)
15:00 Andrei Babikov via ZOOM (Institut de l'Émigration russe, Moscou), Nabokov and pop culture, the unpublished Nabokov's poem on Superman.
15:30 Péter Tamas (Eötvös Loránd University, Hungary) : « Between Self-censorship and Reinterpretation : Nabokov's Lolita: A Screenplay ».
16:00 Coffee break
16:30 Julie Lesnoff (EHESS) : L'adaptation cinématographique de la métaphore nabokovienne, le cas de Lolita.
17.00 Discussion via ZOOM with Lila Azam Zanganeh, author of L'Enchanteur : Nabokov et le bonheur (2011) and co-author with Jesse Lichtenstein of a screenplay based on L'Enchanteur
45, rue d'Ulm, 75005 Paris Ecole Normale Supérieure Salle Dussane
20.30 Commented screening of Marleen Gorris' The Luzhin Defense (1h52). Presentation by Ewa Mazierska (University of Central Lancashire).
Thursday, October 28th, 2021 (10.00 – 17.00) Institut d'Études Slaves: 9, rue Michelet, 75006, Paris
Session chair: Sophie Bernard-Léger (UMR Eur'Orbem)
10:00 Keynote speech by Barbara Wyllie via ZOOM (UCL School of Slavonic and East European Studies):"Luzhin's 'Image System' and the Filmic Mode in Nabokov's Chess Novel".
11.00 Coffee break
Second part : Vladimir Nabokov and Berlin cinematic culture
Session chair: Léopold Reigner (Université de Rouen Normandie)
11:15 Françoise Navailh (Présidente du site kinoglaz.fr), Vladimir Nabokov figurant : une mystification biographique ?
11:45 Luke Parker (Colby College) via ZOOM, Nabokov's Weimar Picture Palace: The Cinematic Culture of Russian Berlin, 1924-1931.
12:15 Alexia Gassin (Sorbonne Université, Université de Caen Normandie), Machenka ou "le réveil des morts".
13:00 – 14.30 Lunch break
Third part : Transposing Nabokov
Session chair: Marie Bouchet (Université Toulouse II Jean-Jaurès)
14.30 Julie Loison-Charles (Université de Lille): Pale Fire, a screenplay by Dennis Delrough: an intersemiotic translation of Nabokov's novel.
15:00 Kateryna Lobodenko (Sorbonne Nouvelle) : Le thème de l'exil dans les adaptations cinématographiques des oeuvres littéraires émigrées (à l'exemple de Nuits de princes de J. Kessel et La Défense Loujine de V. Nabokov)
15.30 Coffee break
16:00 Screening of Mathieu Glissant's short film based on Nabokov's Revenge (Месть) followed by Q&A with the director
Friday, October 29th, 2021 (10.00 – 18.00) Institut d'Etudes Avancées, Paris: 17, quai d'Anjou, 75004 Paris
Fourth part : Nabokov's cinematic writing
Session chair: Yuri Leving (Dalhousie University, Halifax, Canada)
10:00 Marie Bouchet (Université Toulouse II Jean-Jaurès): Paradoxical 'movement-image' in Nabokov's fiction: some reflections upon his cinematic writing.
10:30 Andriej Kotin (Zielona Góra, Poland): «…и плёнка жизни лопнула» – Кинематографические приёмы и мотивы в русскоязычной прозе (и поэзии) Владимира Набокова.
11.00 Coffee break
11:30 Alexandre Zaezjev via ZOOM (Université de Genève): Cinematic imagery in Vladimir Nabokov's "The Eye": a Deleuzian approach.
12:00 Isabelle Poulin, (Université Bordeaux-Montaigne) Présence du dessin animé. Écriture cinématique de l'abjection dans Kamera Obscura et Bend Sinister.
13.00 – 14.00 Lunch break
14.00 Round table discussion about Nabokov's and Rainer Werner Fassbinder's Despair (1978). With Sophie Bernard-Léger, Alexia Gassin, Ewa Mazierska and Françoise Navailh.
15:30 Coffee break
15.45 Screening of Yuri Leving's documentary film Nabokov's Magic Lantern (60 min). Presentation and Q&A with Yuri Leving (Dalhousie University, Halifax, Canada)
17.30 Closing of the conference